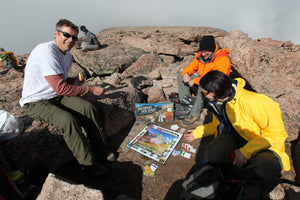 Playing Colorado 14er-opoly at 14,000 ft.
Pass Go & Bag Another 14er!
We brought one of our 14er-opoly games with us on a summit! This game is great because if upgrades a classic game with the love of mountaineering in Colorado. The only thing better than going out and hiking is spending time with friends and family. Board games are a great way to spend that quality time, get a little friendly competition in and make some memories.
Could this be the first ever Monopoly style game played above timber line? 
---